Apple and Dijon Grilled Cheese Sandwiches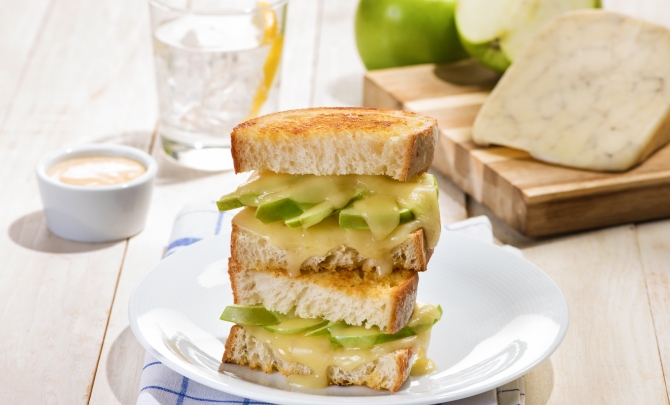 Recipe Description
This simple yet flavorful grilled cheese sandwich is the perfect comfort food.
Ingredients
2 tbsp mayonnaise
2 tbsp Dijon mustard 
8 slices crusty bread (preferably day-old)
8 slices Wood River Creamery Applewood Smoked Sea Salt 
1 Granny Smith apple, cored and thinly sliced 
Preparation
Stir mayonnaise with mustard until blended; set aside. Top half of the slices of bread with 1 slice cheese, a few apple slices and another slice of cheese. Cap with remaining slices of bread. 
Spread reserved mayonnaise mixture on outer sides of sandwiches. In large nonstick skillet, cook sandwiches, in batches if needed, over medium-low heat for 4 or 5 minutes per side or until golden brown and cheese is melted. Cut in half and serve. 
Tip: Add some extra protein with chicken, turkey or ham.