Applewood Smoked Sea Salt & Spinach Savory Bread Pudding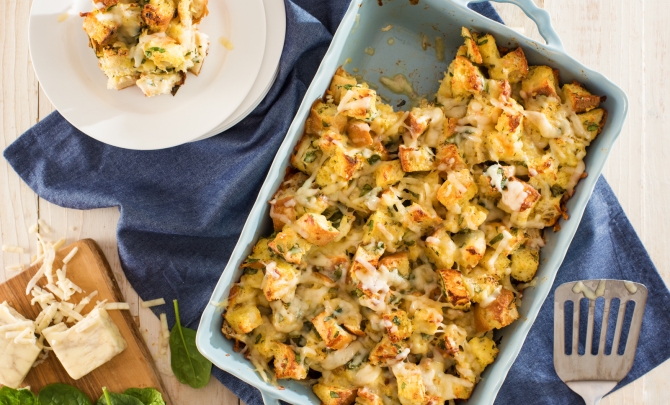 Recipe Description
Delicious savory bread pudding recipe with Applewood Smoked Sea Salt Wood River Creamery cheese.
Ingredients
2 tbsp unsalted butter 
8 slices day-old French bread, 3/4 inch thick 
2 tbsp olive oil
1 clove garlic, minced
4 eggs
2 cups whole milk
1 tbsp Dijon mustard
1 tsp each fresh chopped fresh thyme and rosemary
1/2 tsp salt
1/4 tsp pepper
Pinch cayenne pepper 
1 1/2 cups shredded Wood River Creamery Applewood Smoked Sea Salt Cheese, divided 
1 cup coarsely chopped spinach 
Preparation
Preheat oven to 350°F. Grease 8-inch baking dish with butter; set aside.
Cut bread into 1-inch cubes; toss with olive oil and garlic. Spread on baking sheet. Bake, tossing occasionally, for 12 to 15 minutes or until lightly toasted. Let cool; transfer to large bowl.
In separate bowl, whisk together eggs, milk, mustard, thyme, rosemary, salt, pepper and cayenne pepper; pour over bread cubes. Add 1 cup cheese, and spinach; toss to coat. Cover and refrigerate for 1 hour or up to overnight.
Spread soaked bread mixture in prepared baking dish; sprinkle with remaining cheese. Cover with foil and bake for 45 minutes. Remove foil; bake for about 20 minutes or until golden brown and puffed. 
Tip: Add some leftover sautéed vegetables, such as mushrooms, kale or red pepper, to this dish if desired.