Bacon Mac & Cheese with Black Truffle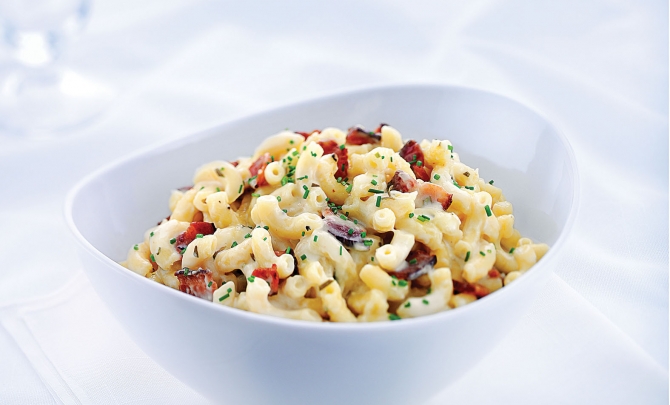 Recipe Description
Creamy, gooey, macaroni enhanced with Black Truffle cheese and crispy bacon.
Ingredients
4 cups (1 quart) heavy cream
Salt and cracked black pepper to taste
1/2 pound bacon, diced, fried crisp and drained
1 pound elbow macaroni or short hollow pasta. Cook according to package directions and drained, reserving 3 teaspoons pasta water
2 cups (8 ounces) Wood River Creamery Black Truffle, shredded (or one cup of Wood River Creamery Original with one cup of Wood River Creamery Black Truffle. Use any combination of Wood River Creamery cheeses. The options are endless!)
Chopped chives for garnish
Preparation
Place cream in large saucepan. Add salt and pepper. Bring to boil and keep at boil until reduced by half (be patient, this takes some time). Stir in bacon and pasta and simmer until hot; add the shredded Black Truffle cheese and 3 teaspoons pasta water. Stir until cheese is melted. Garnish with chopped chives. Serve immediately.
Photo © 2015 Wisconsin Milk Marketing Board, Inc.