Butternut Squash with Mozzarella and Parmesan Fricos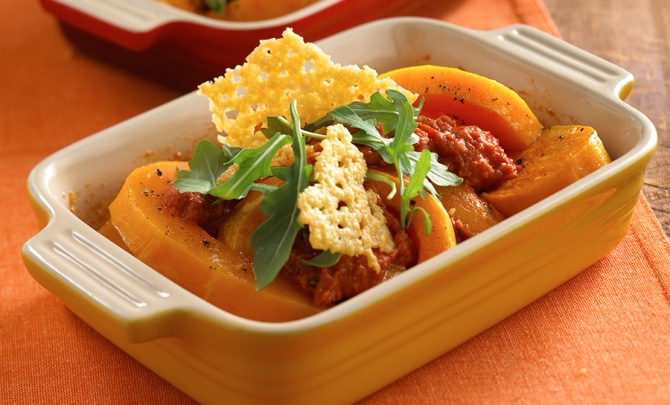 Recipe Description
Great recipe for butternut squash with Mozzarella String Cheese and Parmesan Fricos.
Ingredients
2 butternut squash (about 2 pounds), peeled and sliced into 1/2-inch thick rounds
2 tablespoons olive oil
1 teaspoon salt
1 teaspoon sugar
1/2 teaspoon pepper
1 cup water
1/4 cup extra virgin olive oil
2 garlic cloves, minced
1(15-ounce) can tomato puree
Pinch each of cinnamon, cloves and nutmeg
1 package (6 ounces) Burnett Dairy Mozzarella String Cheese cut in 3-inch pieces
1 tablespoon fresh mint, chopped
1 tablespoon fresh basil, chopped
8 tablespoons Wisconsin Aged Parmesan Cheese shredded
1 cup baby arugula leaves for garnish
Preparation
Squash: Preheat oven to 375°F. Lay squash rounds in single layer on baking sheet pan lined with parchment paper. Drizzle olive oil over squash; sprinkle with salt, sugar and pepper. Add water to just cover bottom of pan. Bake 25 to 30 minutes or until fork-tender.
Tomato Sauce: Heat olive oil in nonstick small pan. Add garlic; cook 30 seconds. Add tomatoes and spices. Cook on low heat for 30 to 45 minutes or until slightly thickened. Stir in Mozzarella; let sit on low until cheese softens.. Stir in mint and basil. Set aside.
Fricos: Preheat oven to 400°F. Line sheet pan with parchment paper and spray with cooking spray. For each frico, place 2 tablespoons of cheese 5 inches apart on pan. Spread each to form 3-inch circles. Bake 10 minutes or until golden brown. Remove from oven and cool. Crumble.
Final Preparation: Preheat oven to 375°F. Place squash in 13x9-inch baking dish, 4 individual casseroles or 6 small ramekins. Heat in oven 5 minutes or until hot. Top with cheesy tomato sauce, arugula and crumbled fricos.
Recipe and Photo: © 2015 Wisconsin Milk Marketing Board, Inc.