Cheesy Rosemary Braid Bread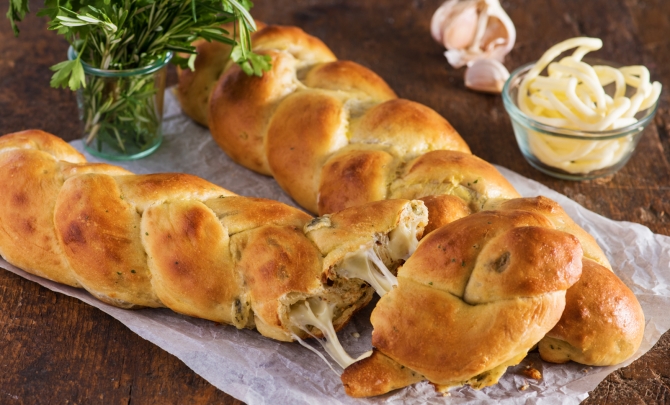 Recipe Description
Enjoy this fun way to eat String Whips for your next gathering or appetizer. 
Ingredients
1 lb pizza dough
3 tbsp melted butter
2 cloves garlic, minced
2 tbsp chopped fresh parsley
1 tbsp chopped fresh rosemary
1 pkg (8 oz) String Cheese Whips
1 egg, lightly beaten 
Preparation
Preheat oven to 400°F. Line baking sheet with parchment paper. Divide dough into three pieces. On lightly floured surface, roll out one piece of dough into long rectangle, about 4 inches wide.
Brush center with melted butter, leaving 1/2 inch border all around. Sprinkle with one-third of the garlic, parsley and rosemary. Lay one-third of the cheese strings down along center of dough, tearing into smaller pieces if necessary. Bring long sides up and pinch to enclose cheese and herbs; roll to make long strand. Repeat to make three strands.
Starting at one end, pinch strands together and braid dough. Pinch ends together to seal. Transfer to prepared baking sheet. 
Beat egg with 1 tsp water; brush over top of bread. Bake for 25 to 30 minutes or until golden brown.