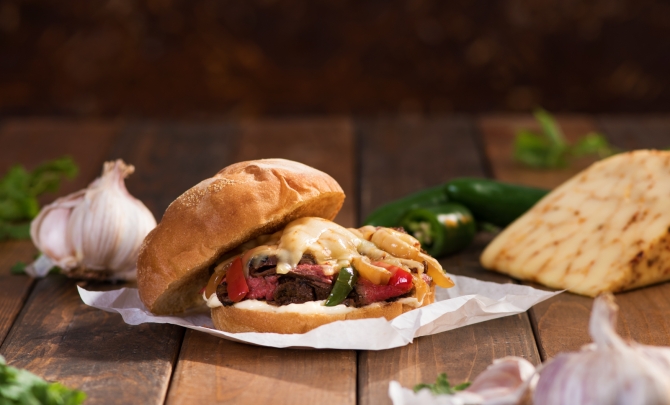 Recipe Description
The ultimate steak sandwich combines tender and juicy steak with Chipotle Garlic Wood River Creamery cheese.
Ingredients
2 lb flank steak
1/3 cup olive oil
3 tbsp lime juice
2 tbsp Worcestershire sauce
1 tbsp soy sauce
1 clove garlic, minced
1 tsp dried oregano
1 tsp paprika
1 tsp ground cumin
1 tsp brown sugar
3/4 tsp each salt and freshly ground pepper
1 large onion, sliced
1 red pepper, sliced
1 green pepper, sliced
1 jalapeno pepper, seeded and finely chopped 
1 tbsp chopped fresh cilantro
6 crusty rolls
1/3 cup mayonnaise 
9 oz Wood River Creamery Chipotle Garlic, sliced 
Preparation
Place flank steak in resealable plastic bag. Stir together 1/4 cup oil, 2 tbsp lime juice, Worcestershire sauce, soy sauce, garlic, oregano, paprika, cumin, brown sugar, and 1/2 tsp each salt and pepper; pour over steak. Refrigerate for at least 2 hours or up to overnight.
Preheat grill to medium-high; grease grate well. Grill steak for 5 to 6 minutes per side for medium-rare or until desired doneness. Let stand for 5 minutes; slice thinly. 
Meanwhile, in large skillet, heat remaining oil over medium-high heat; sauté onion, peppers, jalapeno and remaining salt and pepper for 5 to 7 minutes or until tender. Stir in remaining lime juice and cilantro.
Sandwich steak in crusty rolls with mayonnaise, sautéed pepper mixture and cheese. 
Tip: Add slices of ripe avocado to the sandwich if desired.