Cornmeal Crusted Fish Tacos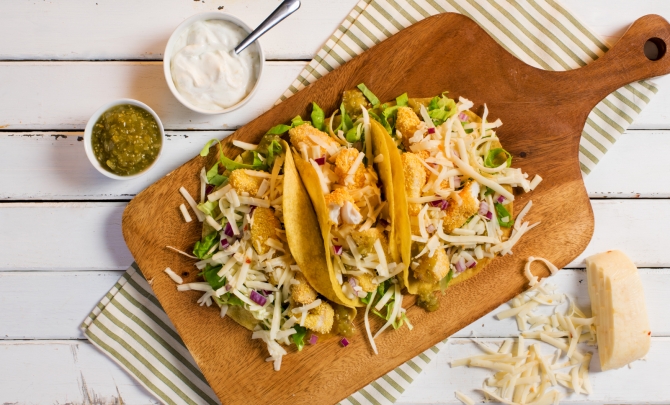 Recipe Description
Crispy fish tacos, made with a simple cornmeal crust topped with Wood River Creamery Mango Habanero Cheddar Gruyere.
Ingredients
1 lb white-fleshed fish (such as cod, haddock, tilapia or halibut), cut into 2- x 1-inch pieces
3/4 tsp salt 
1/2 tsp freshly ground pepper
1/3 cup cornmeal
1/4 cup canola oil
1/2 cup sour cream 
1/2 tsp finely grated lime zest
1 tbsp lime juice
1/4 tsp ground cumin 
8 corn tortillas (7 inch), warmed 
2 cups shredded Bibb lettuce
1/2 cup prepared tomatillo salsa
1 cup (4 oz) Wood River Creamery Mango Habanero Cheddar Gruyere, shredded
1/4 cup finely chopped red onion 
Preparation
Season fish with 1/2 tsp salt and 1/4 tsp pepper; dredge in cornmeal. In large nonstick skillet, heat oil over medium heat; cook fish, in batches if needed, for 2 to 4 minutes per side or until lightly golden and fish is cooked through. Transfer to plate lined with paper towel.
Stir together sour cream, lime zest, lime juice, cumin and remaining salt and pepper. Assemble fish in tortillas with lettuce, salsa, cheese and red onion; drizzle with sour cream mixture.
Tip: For fully loaded tacos, add avocado, cucumber and fresh cilantro when assembling them.
Tip: Use corn or flour tortillas.
Tip: Substitute shredded red cabbage for lettuce if desired.