Eggplant Involtini with Prosciutto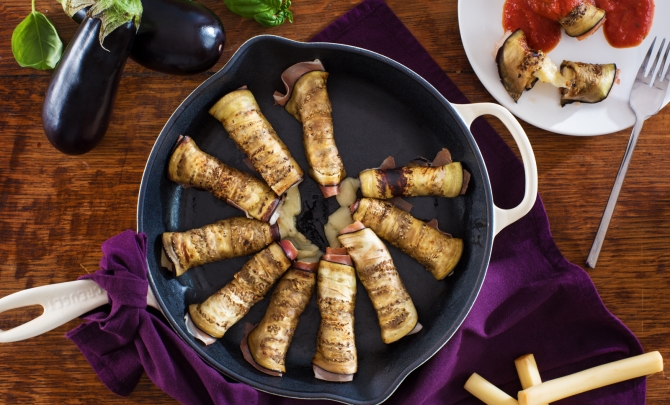 Recipe Description
Our smoky spin on a classic Italian entree is to make Eggplant Involtini appetizers. Perfect for dipping! This recipe features thin slices of eggplant layered with prosciutto and filled with smoked string cheese with marinara sauce for dipping.
Ingredients
1 large eggplant, sliced lengthwise into 12 slices, 1/8-inch thick 
1/4 cup olive oil
6 slices prosciutto, halved 
6 pieces Smoked String Cheese, halved
12 leaves fresh basil 
1 cup marinara sauce 
Preparation
Heat half of the oil in large saucepan set over medium heat; fry eggplant in batches, turning once, for 2 to 3 minutes per side or until tender and golden brown. 
Preheat oven to 325°F. Layer prosciutto over eggplant. Top with basil leaf and 2 pieces of cheese string; roll up eggplant to enclose cheese. Place on parchment paper–lined baking sheet; bake for about 10 minutes or until cheese has slightly melted. 
Heat marinara sauce in small saucepan set over medium heat; serve with Eggplant Involtini for dipping. 
Tip: Use mandolin with hand guard for thin, even eggplant slices.