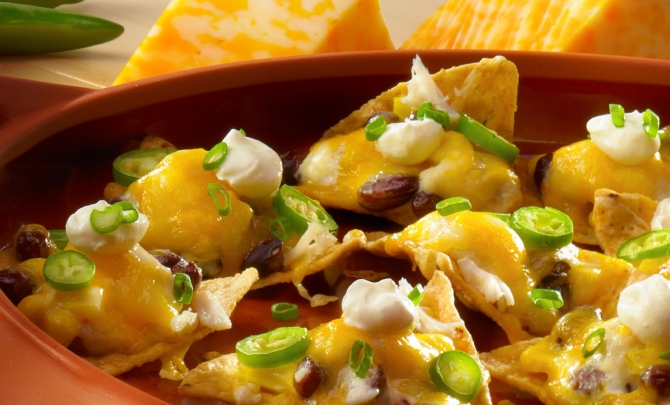 Recipe Description
Take your nachos up a notch by adding crab meat! Served with our Fancy Jack Cheese, this can be an appetizer or meal!
Ingredients
1 (13-ounce) bag corn tortilla chips
1 (8 3/4-ounce) can corn, drained
1 (15.5-ounce) can black beans, drained and rinsed
1/2 cup guacamole ranch-style salad dressing
8 ounces jumbo lump crabmeat, drained
1/2 teaspoon pepper
1 1/2 cups (6 ounces) Burnett Dairy Gold'n Jack Cheese, shredded
1/4 cup sour cream
2 green onions, sliced
1/4 cup jalapeño chile slices
Preparation
Preheat oven to 375°F. Place thin layer of chips (about 2/3 bag) on bottom of large oven-safe platter. In bowl, combine corn, beans, dressing, crabmeat and pepper. Mix well; then spoon over chips. Sprinkle with cheese and bake until cheese is melted, 10 to 15 minutes. Garnish with sour cream, green onions and jalapeño slices. Serve immediately with remaining chips on the side.
Recipe and Photo: © 2015 Wisconsin Milk Marketing Board, Inc.