French Onion Cheddar Gruyere Dip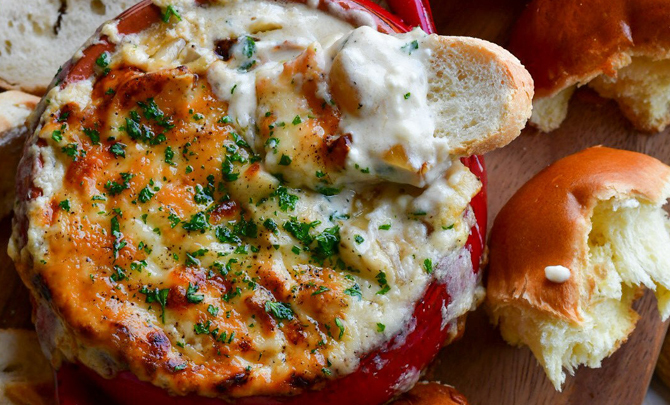 Recipe Description
Pro tip: make a double batch because this French onion dip is so cheesylicious! 
Ingredients
3 oz softened cream cheese
¼ cup olive oil mayo
¼ cup sour cream
5 oz Wood River Creamery Original Cheddar Gruyere (plus 1 oz for top)
½ cup milk
¼ tsp salt
¼ tsp pepper
1 large white onion
3 cloves minced garlic
2 tsp extra virgin olive oil
3 tsp balsamic vinegar
2 tsp butter
1 tsp sugar
¼ cup parmesan
Bread for dipping such as French baguette and Challah
Preparation
On medium heat, saute the butter, olive oil, garlic, and onions for about 5 minutes, and then add in the sugar.
Saute until soft and golden (about 15 more minutes). Turn heat to simmer and add the balsamic. Let cool.
Preheat oven to 400 degrees F.
Combine all other ingredients in a large bowl. Add onion mixture and stir until combined.
Place in an oven-safe dish and add the remaining Cheddar Gruyere to the top.
Bake until hot and bubbly, about 20 minutes.
Garnish with fresh herbs and enjoy hot!