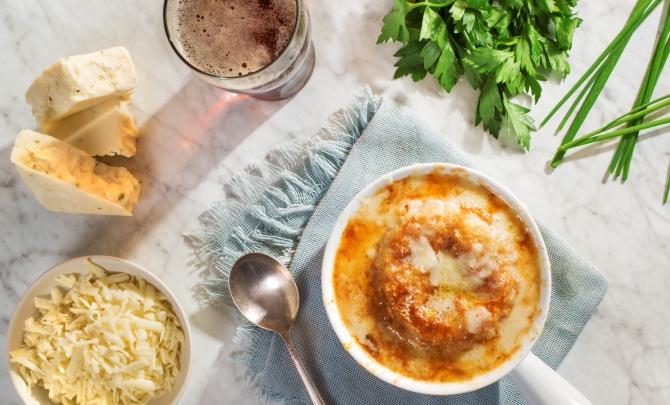 Recipe Description
There is nothing more comforting on a chilly day than a warm bowl of French Onion Soup. Try this recipe with our Wood River Creamery Herbes de Provence Cheese.
Ingredients
2 tbsp canola oil
2 tbsp butter
5 medium cooking onions, sliced (about 2 1/2 lb)
1/2 tsp each salt and freshly ground pepper
1 tsp granulated sugar 
1 tbsp all-purpose flour
1 tbsp tomato paste
1 cup dry white wine
1/3 cup brandy
2 bay leaves
6 cups low-sodium beef broth  
1 egg
1 sheet pre-rolled puff pastry 
2 tbsp finely chopped fresh parsley
1 tbsp finely chopped fresh chives
3 cups shredded Wood River Creamery Herbes de Provence 
Preparation
In Dutch oven or large saucepan, melt oil and butter over medium-low heat; cook onions, salt and pepper, stirring regularly, for 1 hour. Add sugar; cook for about 20 minutes or until dark golden brown and caramelized. 
Increase heat to medium; sprinkle flour over top. Cook, stirring, for 2 minutes. Add tomato paste; cook for 1 minute. Slowly stir in wine, brandy and bay leaves; bring to simmer. 
Cook, stirring occasionally, for about 10 minutes or until reduced slightly. Pour in broth and return to simmer; simmer gently for 20 to 25 minutes or until flavors are well blended. 
Meanwhile, preheat oven to 425°F. Beat egg with 1 tbsp water; set aside. On lightly floured work surface, cut out 6 pastry rounds using 3 1/2-inch round cutter. Place on parchment paper–lined baking sheet.