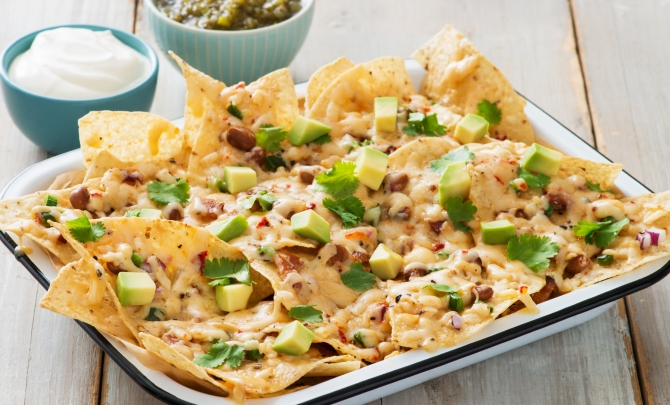 Recipe Description
Artisan cheese takes your classic nachos and makes them gourmet. With our Wood River Creamery Roasted Red Pepper and Cracked Peppercorn and fresh herbs and avocado, these nachos are sure to please the crowd. Try paired with Merlot, Pale Ale or Pilsner.
Ingredients
1/2 bag (425 g bag) artisanal-style tortilla chips 
2 slices thick-cut smoked bacon, cooked and crumbled 
1/2 cup drained rinsed pinto beans
1/2 cup diced red onion 
1 jalapeno pepper, seeded and finely chopped 
1 1/2 cups (6 oz) Wood River Creamery Roasted Red Pepper & Black Peppercorn Cheddar Gruyere, grated
1 avocado, chopped 
2 tbsp chopped fresh cilantro
1/2 cup tomatillo salsa
1/2 cup sour cream
Preparation
Spread tortilla chips on baking sheet; top with bacon, beans, red onion and jalapeno pepper. Sprinkle cheese over top.
Bake in 375°F oven for 10 to 12 minutes or until cheese is melted. Sprinkle with avocado and cilantro. Serve with salsa and sour cream.