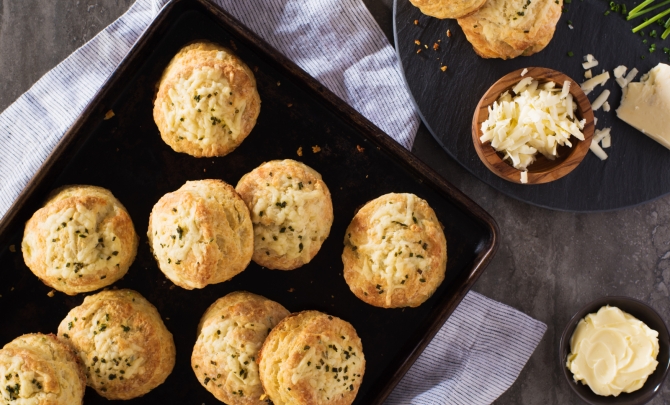 Recipe Description
Take your everyday cheddar biscuits up a notch with this recipe featuring Wood River Creamery Herbes de Provence Cheese.
Ingredients
2 1/4 cups all-purpose flour
2 tbsp granulated sugar
1 tbsp baking powder
1/2 tsp salt
1/2 cup cold unsalted butter, cubed
1 cup shredded Wood River Creamery Herbes de Provence Cheese, divided
3/4 cup buttermilk
1 egg
2 tbsp chopped fresh chives, divided
2 tbsp melted butter
1 clove garlic, minced 
Preparation
Preheat oven to 400°F. In bowl, whisk together flour, sugar, baking powder and salt. Using large holes on box grater, grate butter into flour mixture; work butter into flour mixture using fingertips until mixture resembles coarse crumbs. Stir in 3/4 cup cheese.
Whisk together buttermilk, egg and 1 tbsp chives; using fork, stir into flour mixture until ragged dough forms. On lightly floured surface, knead dough 4 or 5 times until dough comes together. Pat into round, about 3/4 inch thick. Using floured 2 1/2-inch cutter, cut into rounds, rerolling scraps once. 
Place biscuits 2 inches apart on parchment paper–lined baking sheet. Mix together melted butter, garlic and remaining chives; brush over biscuits. Sprinkle with remaining cheese. Bake for 12 to 15 minutes or until golden brown and flaky. Transfer to rack; serve warm or let cool.