Jalapeno Popper Grilled Cheese Sandwich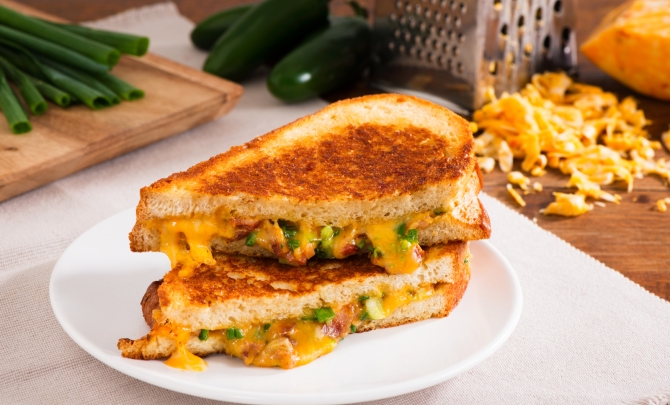 Recipe Description
Spicy and ooey, gooey, cheesy! Jalapeno Popper Grilled Cheese Sandwiches are bold and a delicious spin on your every day grilled cheese.
*This recipe is designed for foodservice application and ingredient amounts will likely need to be adjusted for personal use.
Ingredients
Filling: 

4 cups shredded 3 Pepper/Colby/Jack Cheese
12 slices bacon, cooked and crumbled
3/4 cup finely chopped green onion
3 jalapeno peppers, seeded and finely chopped

Assembly:

6 tbsp butter, at room temperature
24 slices crusty bread
Preparation
Filling: Toss together cheese, bacon, green onion and jalapenos. Prepare up to 4 hours before service. Cover and refrigerate until service. 
Assembly (for each order): Sandwich (1 1/2 oz) Filling between 2 slices of bread. Butter outer slices of sandwich with 1 1/2 tsp (1/8 oz) butter. Sandwiches can be assembled to order for up to 1 hour before service.
Heat large nonstick skillet over medium heat; cook sandwich for 4 to 6 minutes per side or until bread is golden brown and toasted and cheese is melted. To serve, cut in half. 
Tips: 
•    Cook sandwiches in a panini press if desired.
•    Serve with tomato salsa for dipping. 
•    Garnish plate with pickled jalapeno peppers if desired.