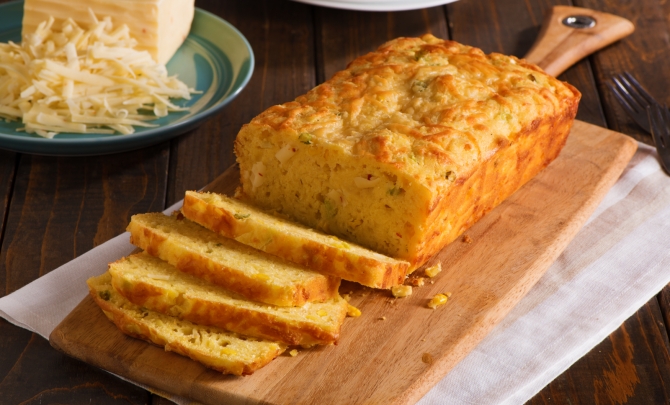 Recipe Description
Cornbread packed with cheese, whole kernel corn and green onions. This recipe is sure to have your family asking for more. 
Ingredients
1 cup fine cornmeal
1 cup all-purpose flour
1/4 cup granulated sugar 
2 tsp baking powder 
1/4 tsp salt 
1 cup buttermilk
2 eggs
1/2 cup melted butter
1/2 cup frozen corn kernels, thawed
1 cup (4 oz)  Wood River Creamery Mango Habanero Cheddar Gruyere, shredded & divided
2 green onions, sliced 
Preparation
Preheat oven to 375°F. Line 8- x 4-inch loaf pan with enough parchment paper to overhang sides; set aside. 
Whisk together cornmeal, flour, sugar, baking powder and salt. In separate bowl, whisk together buttermilk, eggs and melted butter; stir into dry ingredients. Fold in corn kernels, 3/4 cup cheese, and green onions.
Scrape into prepared pan and smooth top. Sprinkle with remaining cheese. Bake for 35 to 40 minutes or until tester inserted in center comes out clean. Let cool in pan on rack for 10 minutes. Serve warm or turn out onto rack and let cool completely. 
Tip: Kick up the heat by adding one seeded, finely diced habanero or jalapeno pepper along with corn kernels.