Mexican Skillet Corn Bread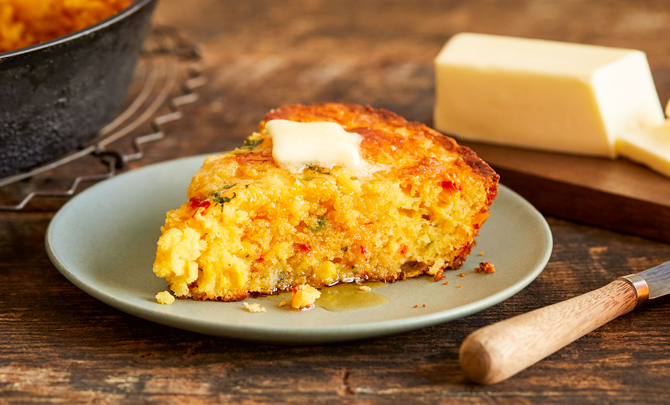 Recipe Description
Corn bread bursting with flavor and a cheesy twist! This recipe is a huge hit in every crowd!
Ingredients
2 packages (8.5 ounces each) corn bread (muffin) mix
2 large eggs
1/2 cup milk
1/2 cup sour cream
1 can (15.25 ounces) whole kernel corn, drained
6 ounces Burnett Dairy Monterey Jack cheese, shredded (1 1/2 cups)
1 medium sweet red bell pepper, finely chopped
1 medium jalapeno pepper, seeded and finely chopped
1/4 cup minced fresh cilantro
1 tablespoon butter, cubed
Butter and honey
Preparation
Place a 12-inch ovenproof or cast-iron skillet in the oven on the middle rack. Heat oven to 375°F.
Beat the cornbread mix, eggs, milk, and sour cream in a large bowl until smooth. Stir in the corn, Monterey Jack, red bell and jalapeno peppers, and cilantro.
Remove the skillet from the oven. (Pan will be hot!) Add butter; tilt pan to coat the bottom and sides. Pour batter into the hot skillet. Bake for 25-30 minutes or until a toothpick inserted near the center comes out clean.
Cool slightly. Cut into wedges. Serve warm with butter and honey.
Recipe and photo © Dairy Farmers of Wisconsin