Mushroom and Swiss-Stuffed Chicken with Wine Sauce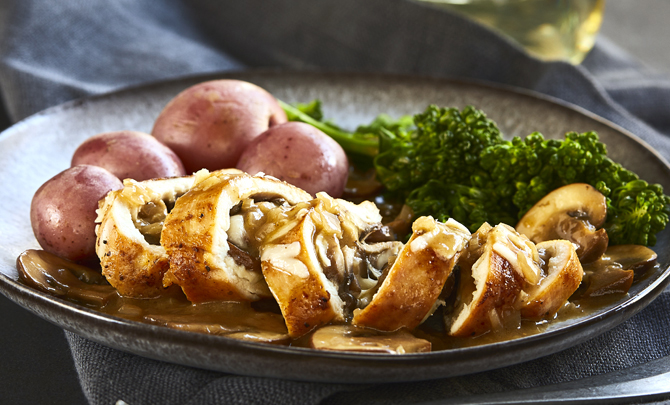 Recipe Description
Bring fine dining right to your home. Perfect for holidays, special occasions, or any night of the week.
Ingredients
5 tablespoons cold butter, cubed and divided
1 package (8 ounces) sliced fresh mushrooms
Salt and pepper
2 boneless skinless chicken breast halves (about 1 pound)
1 1/2 cups (6 oz) Burnett Dairy Swiss Cheese, shredded & divided
1 large shallot, finely chopped
1/2 cup dry white wine
3/4 cup chicken broth
Preparation
Melt 1 tablespoon butter in a large skillet over medium heat. Add mushrooms; cook for 4-6 minutes or until tender, stirring occasionally. Season with salt and pepper. Transfer mushrooms to a bowl. Wipe out the pan.
Meanwhile, cut each chicken breast half with a sharp knife horizontally from the long side to within 1/4 inch of edge. Open chicken breast halves; cover with waxed paper. Flatten to 1/4-inch thickness. Season with salt and pepper.
Top half of each chicken breast with 1/2 cup swiss and 1/4 cup mushrooms. Fold chicken over filling; secure with toothpicks.
Melt 2 tablespoons butter in the same skillet over medium heat. Add chicken; cook, covered, for 8 minutes. Flip chicken; cook, covered, 7-8 minutes longer or until a thermometer inserted in meat reads 165˚F. Top with remaining swiss.
Transfer chicken to a plate; tent with aluminum foil to keep warm.
Return pan to medium heat. Add shallot; cook and stir for 1-2 minutes or until tender. Add wine, stirring to loosen any browned bits from bottom of pan. Cook and stir for 2 minutes longer. Stir in broth. Bring to a boil; cook and stir for 5-6 minutes or until sauce is reduced to about 1/3 cup.
Remove from the heat. Slowly whisk in remaining butter, 1 tablespoon at a time, until melted. Season with salt and pepper. Stir in remaining mushrooms. Discard toothpicks; serve the chicken with sauce.
Recipe and photo © Dairy Farmers of Wisconsin
Recipe Tip
We tested this recipe with Sauvignon Blanc wine.