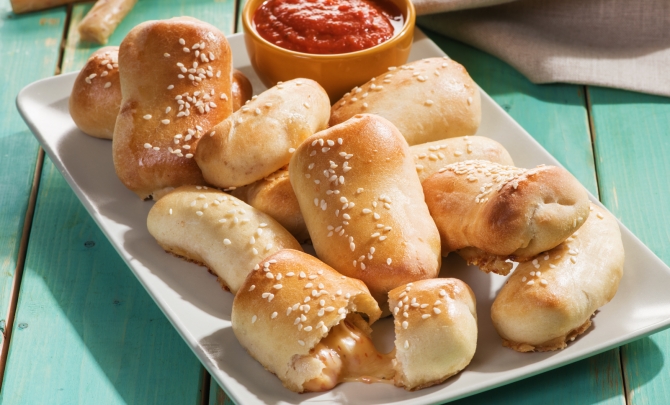 Recipe Description
These soft and chewy breadsticks are filled with our Pepperoni String Cheese, making them perfect for lunch, snacks, appetizers, and grab-n-go dinners.
Find our Pepperoni Pizza and Garden Veggie String Cheeses in Walmart stores across the Midwest. Find a store near you!
Ingredients
1 lb prepared pizza dough
2 tbsp olive oil 
2 cloves garlic, minced 
1 tbsp dried oregano 
1/2 pkg (10 oz pkg) Pepperoni Pizza String Cheese (6 pieces), halved 
1 egg, beaten 
1 tbsp sesame seeds 
1 cup pizza sauce, warmed 
Preparation
Preheat oven to 425°F. Divide dough into 12 portions. On lightly floured surface, roll out each portion into 5- x 3-inch piece, about 1/4-inch (5 mm) thick. Mix together olive oil, garlic and oregano. Brush evenly over pieces of dough. 
Place cheese string half in center of each piece of dough. Fold short ends of dough over cheese, then roll up like a burrito; pinch edges tightly to seal. Place on parchment paper–lined baking sheet. Brush with egg and sprinkle with sesame seeds. Bake for 13 to 15 minutes or until golden brown. Serve with pizza sauce for dipping.
Tip: Kids will love these, but they are also a fun appetizer for adults – perfect for casual entertaining, watching the big game or potluck parties.
Tip: Try our Pepperoni String Cheese rolled in pizza crust for the perfect stuffed crust pizza.
Tip: Try pizza sticks with our other fun string cheese flavors, such as Hot Pepper Beef.