Propane for Homeowners and Businesses

Burnett Dairy Cooperative is a full-service propane supplier serving homes, farms, and businesses in Northwestern Wisconsin and East Central Minnesota. We lease and install 120, 250, 500, and 1,000-gallon propane tanks for residential, agricultural, and commercial customers.
For more information on having a propane tank installed at your home or business, please call 715-689-2786. Our team is proud to serve you.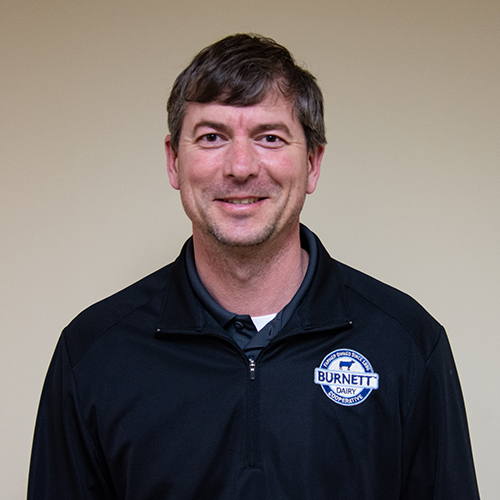 Mark DeGroot
Sr. VP of Agribusiness
Office: 715-689-1007
Cell: 651-792-6852
Email Mark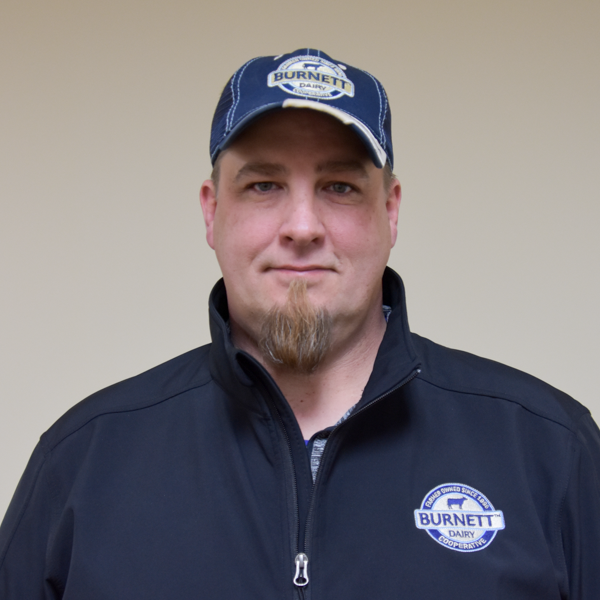 Tim Kreuser-Peterson
Fuels Sales Specialist / Operations Supervisor
Cell: 320-438-0771
Email Tim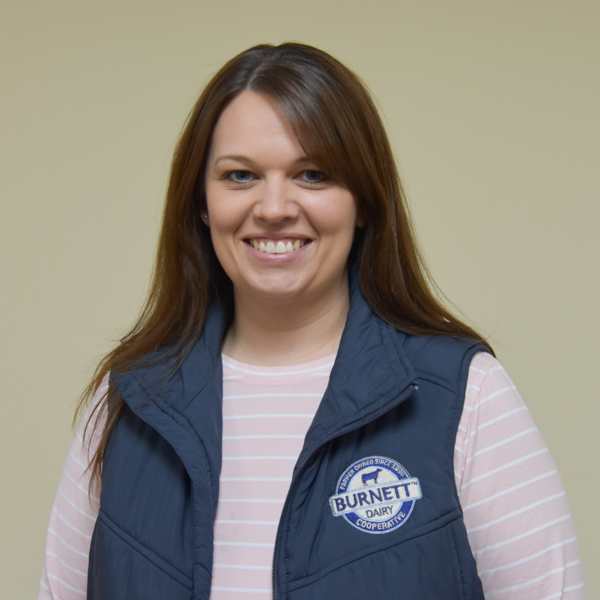 Sara Jensen
Energy Account Specialist
Office: 715-689-1004
Email Sara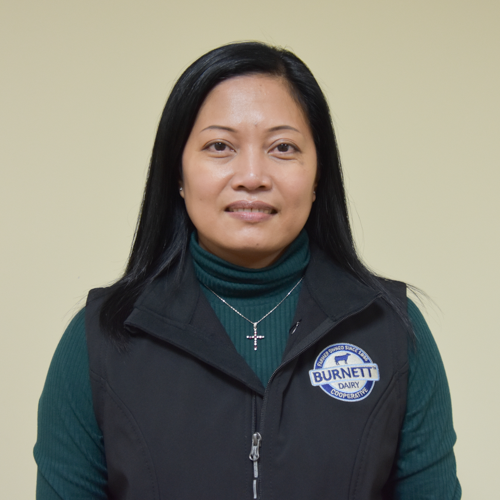 Jeneviev Sullivan
Agribusiness CSR
Office: 715-689-1039
Email Jen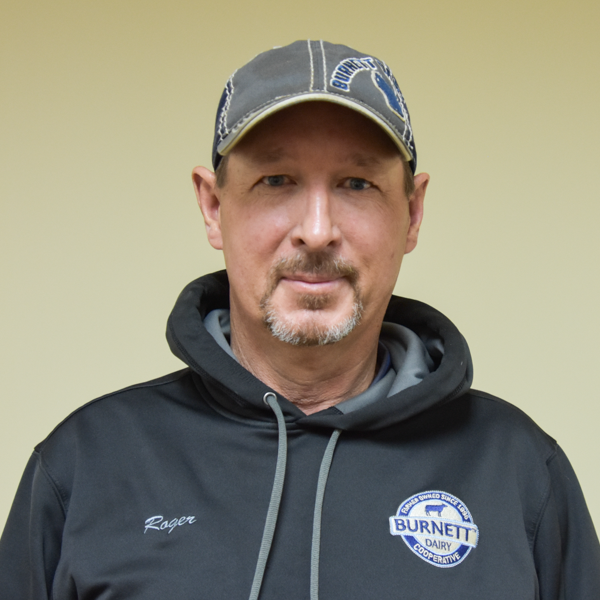 Roger Sandberg
Propane Service Technician
Propane Drivers: Rob Bergeron, Jimmy Flanigan, Mike Johnson, and Bill Schmidt

 
Delivery Options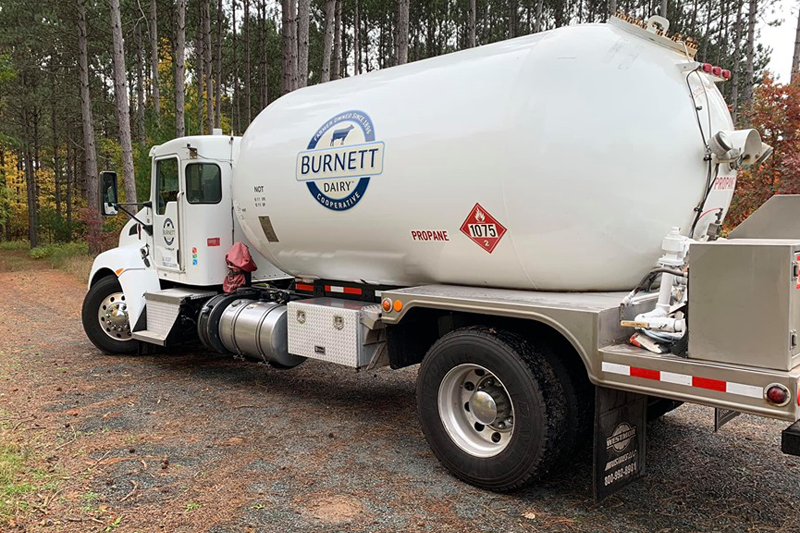 ​
Burnett Dairy is proud to serve its customers 365 days a year. We offer three convenient delivery options to best fit the needs of the customer.
Scheduled Delivery: Scheduled delivery is a Degree Day system of predicting/gauging the percentage in your propane tank based on the "heating degree days" of the current heating season along with the prior year(s) usage of your home. The Degree Day system works well from year to year providing no major changes in your usage year over year. Burnett Dairy will fill your tank when it nears the 30% mark. 

Please contact us if there are any changes so we can adjust your usage (ex. If you go south for the winter and one year you don't, you will use more propane and we need to be aware of this change.).

Click here for the Scheduled Delivery Form
 
Will-Call Delivery: You contact us when your tank reaches the 25% mark.
 
Electronic Monitor Delivery: Burnett Dairy can install an electronic monitoring system on your propane tank which records the tank volume daily. Delivery will be made when your tank reaches 20-30%. Please contact us for more information.
To order or for more information on delivery options, please call 715-689-2786 or 1-800-854-2716 option 3.
We are available 24/7 for emergencies. Call either phone number listed above to speak with our on-call personnel. Same day delivery & pressure check charges may apply.
Payment Programs
Burnett Dairy strives to add convenience and value to your bottom line through pre-pay and budget payment programs.
Pre-pay: Pre-paying for propane allows you to pre-purchase propane for the heating season at a fixed price per gallon. All accounts must be current to purchase pre-pay and our minimum purchase for pre-pay is 300 gallons. After the pre-pay contract expires, any dollar amount left in your pre-buy will convert to next year's pre-pay price. Pre-pay information is mailed out to current customers by the end of July. If you are not a current customer, please call 715-689-2786 for pre-pay prices.
 
Budget: As a budget customer, you will be able to enjoy the benefits of pre-set monthly payments as well as cash discounts. Being a budget customer also allows you to take advantage of scheduled delivery service if you choose that delivery option.

The time period of the budget is from June 1st thru May 1st. Budgets will be re-written in June of every year for the upcoming heating season. Contact Customer Service at 715-689-2786 if you would like to learn more about this program.
Need Energy Assistance? 
Need help paying your bill? Please click here for a list of energy assistance locations.
Propane System Check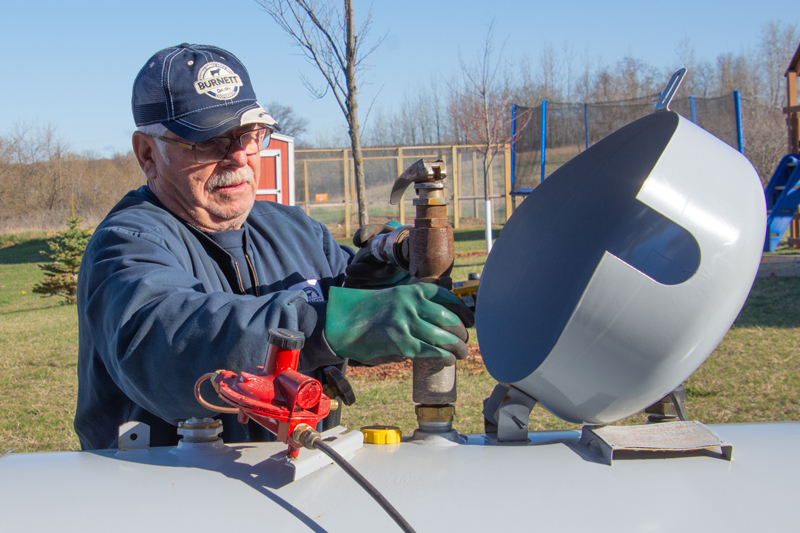 ​
Propane System Check is a preventive maintenance program developed to help the propane industry meet the requirements of the National Fuel Codes. The system check consists of checking everything from the tank to the appliances. Burnett Dairy has the following requirements:
All gas systems must go through a system check if:
You're a new owner/renter of the property
You added a new appliance
You experienced an interruption of service
The customer must be home when the system check is performed.
What all does a system inspection entail?
1. Propane system is shut down for about 10 minutes to pressurize the lines to be sure there is no leaks.
2. Regulators are checked and if they are 15 years or older, we ask that they be replaced.
3. Our technicians will check everything to be sure it is up to date and up to code.
4. Our technicians will light all appliances/furnaces that run on propane to be sure you are up and running before he leaves your home.
This inspection will provide you with the opportunity to become familiar with how your system operates, particularly how to shut it off if required to do so. This program is free to customers unless repairs are needed. To schedule a system check, please call 715-689-2786.
Add a splash of color 
Need your tank painted? During the summer months, we will come and paint your tank for you. There is no charge if you lease the tank or $60/hr if you own your tank. Color options are gray, green, tan, or white.
Propane Safety Information