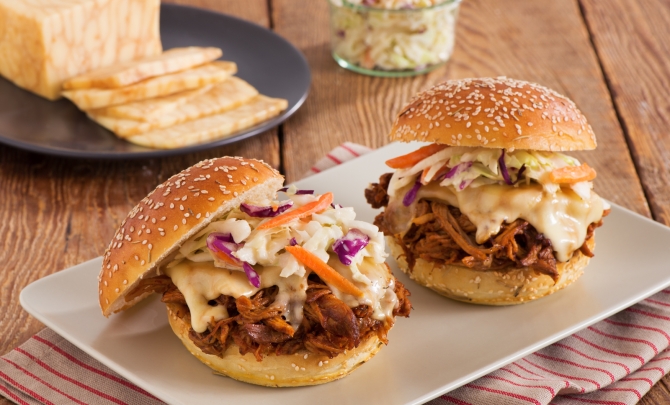 Recipe Description
A BBQ classic with a twist! This Pulled Pork Sandwich features our Espresso Brava Wood River Creamery cheese.
Ingredients
3 1/2 lb pork shoulder butt roast
3 tbsp mild chili powder, divided 
1 tbsp paprika
4 tsp ground cumin, divided
1 tsp each ground coriander and oregano 
1/2 tsp each salt and pepper
1 tbsp vegetable oil
2 onions, chopped
4 cloves garlic, coarsely chopped 
1 jar (24 oz) tomato passata
3/4 cup brown sugar 
1/2 cup ketchup
1/3 cup cider vinegar
2 tbsp Worcestershire sauce 
2 tsp prepared mustard 
6 rolls  
6 oz Wood River Creamery Espresso Brava Cheese, sliced  
1 bag (14 oz) cabbage slaw
1/3 cup prepared coleslaw dressing 
Preparation
Pat pork roast dry with paper towel. Mix together 1 tbsp chili powder, paprika, 1 tsp cumin, coriander, oregano, salt and pepper; rub all over pork. Refrigerate for at least 2 hours or up to overnight. 
Preheat oven to 325°F. Heat oil in large Dutch oven set over medium-high heat; sear pork on all sides for 5 to 7 minutes or until browned. Transfer pork to plate; set aside. 
Reduce heat to medium; cook onions, garlic and remaining chili powder and cumin for 3 to 4 minutes or until onions are softened. Stir together passata, sugar, ketchup, cider vinegar, Worcestershire sauce and mustard; add to onion mixture and bring to boil. 
Return pork to Dutch oven; cover and transfer to oven. Bake for 3 1/2 to 4 hours or until pork is very tender. Transfer to bowl and shred using two forks. Return to pan and stir until well coated with sauce. 
Place 1/2 cup pulled pork on each roll; top with 2 slices cheese.
Toss cabbage slaw with dressing. Top each sandwich with about 1/3 cup coleslaw. Serve remaining coleslaw on the side. 
Tip: Remaining pulled pork can be transferred to airtight container and refrigerated for up to 4 days or frozen for up to 3 weeks. You can use it for a quick weeknight dinner, such as tacos, pizza or nachos.