Quinoa and Zucchini Fritters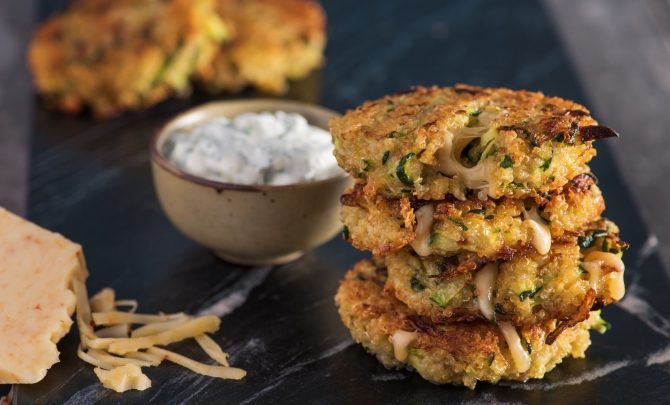 Recipe Description
Quinoa combined with Zucchini, Chipotle Garlic Cheese, pan fried and served with a lime and cilantro sour cream dipping sauce. 
Ingredients
2 zucchini, trimmed and shredded
1/2 tsp salt, divided  
2 cups cooked quinoa, cooled
2 eggs, lightly beaten
1 tsp dried oregano
1/4 tsp pepper
1/2 cup shredded Wood River Creamery Chipotle Garlic Cheese 
1/4 cup all-purpose flour
1/4 cup canola oil
Cilantro-Lime Sour Cream:

3/4 cup sour cream
1 tsp lime zest
2 tbsp lime juice
Pinch salt 
1/4 cup chopped fresh cilantro 
Preparation
Line baking sheet with tea towel; place zucchini on tea towel and sprinkle with half of the salt. Let stand for 10 minutes. Roll up into log and twist, squeezing to remove excess moisture.
In bowl, stir together zucchini, quinoa, eggs, oregano, remaining salt, and pepper; stir in cheese and flour. Form into 12 patties. Refrigerate for 30 minutes. 
Heat oil in nonstick skillet set over medium-high heat; fry fritters, in batches, for 2 to 3 minutes per side or until crisp and golden. Transfer to paper towel–lined plate. 
Cilantro-Lime Sour Cream: Meanwhile, stir together sour cream, lime zest, lime juice and salt. Stir in cilantro. Serve with warm fritters. 
Tip: Add chopped chipotle in adobo sauce to sour cream instead of lime if desired.