Red, White and Blue Fruit Salad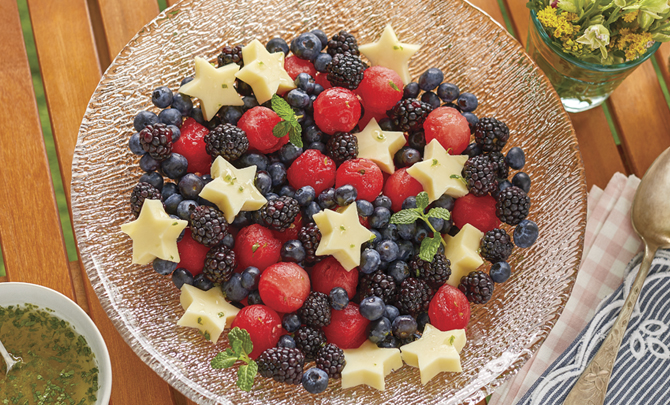 Recipe Description
Wood River Creamery Original takes fruit salads to the next level, especially with this honey-lime dressing!
Ingredients
Honey-lime Dressing:
1/4 cup honey
2 tablespoons lime juice
1 teaspoon lime zest
1/4 cup minced fresh mint
Fruit Salad:
3 cups watermelon balls
3 cups blueberries
1 cup blackberries
Fresh mint, optional
Preparation
Honey-lime Dressing:
Whisk the honey, lime juice, and lime zest in a small bowl. Stir in mint.
Fruit Salad:
Cut Cheddar Gruyere into slices. Cut slices with a mini star cookie cutter, using the handle of a small spoon to press and release cheese from cutter at star points.
Combine watermelon and berries in a large serving bowl. Top with Cheddar Gruyere. Toss with dressing. Garnish with mint if desired.
Recipe and photo © Dairy Farmers of Wisconsin