Risotto-Stuffed Portobello Mushrooms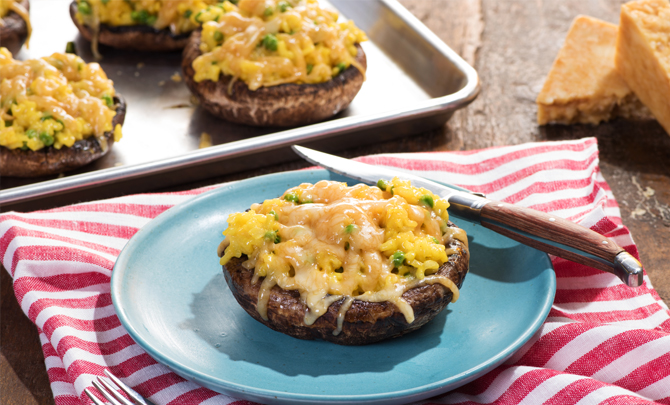 Recipe Description
These elegant, stuffed mushroom caps make a lovely special-occasion side dish.
Ingredients
6 cups sodium-reduced chicken broth
1 bay leaf
Pinch saffron threads
2 tbsp olive oil
1 small onion, finely chopped
1 clove garlic, minced
1 cup arborio rice
1/2 tsp each salt and freshly ground pepper
1/2 cup dry white wine
1 cup peas 
2 cups (8 oz) Burnett Dairy Roasted Garlic Monterey Jack, shredded
2 tbsp butter
Preparation
Risotto: In large saucepan, combine broth, bay leaf and saffron over medium heat; bring to simmer. Reduce heat to low to barely maintain simmer.
In Dutch oven, heat oil over medium heat; cook onion and garlic for 4 or 5 minutes or until softened. Add rice, salt and pepper; cook, stirring, for about 2 minutes or until rice is well coated. 
Pour in wine; cook, stirring constantly, until almost all of the liquid is absorbed. Reserve 1/2 cup broth. Add broth, 1 cup at a time, stirring after each addition until almost all of the liquid is absorbed, cooking for 25 to 30 minutes or until the rice is creamy and tender. (Discard bay leaf). Stir in peas, reserved broth, 1 cup of the cheese and butter. Remove from heat; cover and let stand for 5 minutes. Let cool slightly. 
Preheat oven to 375°F. Brush mushroom caps all over with oil. Add to parchment paper–lined baking dish. Sprinkle each mushroom with 1 tbsp cheese. Fill mushrooms with risotto and top with remaining cheese. Bake for 20 to 30 minutes or until mushrooms are tender and cheese is melted. Sprinkle with parsley.
Tip:  You can make the risotto ahead of time. Refrigerate in an airtight container for up to 2 days.
Tip: The dark brown gills of the portobello mushrooms are edible, but they leach out a brown liquid when cooked that's not visually appealing. To remove, scrape out gills with a spoon. 
Tip: Arborio rice is easy to find in supermarkets and online. Other varieties of rice, such as carnaroli or vialone nano, can also be used to make risotto. They can be found at Italian grocery stores or specialty markets.