Savory Stuffed French Toast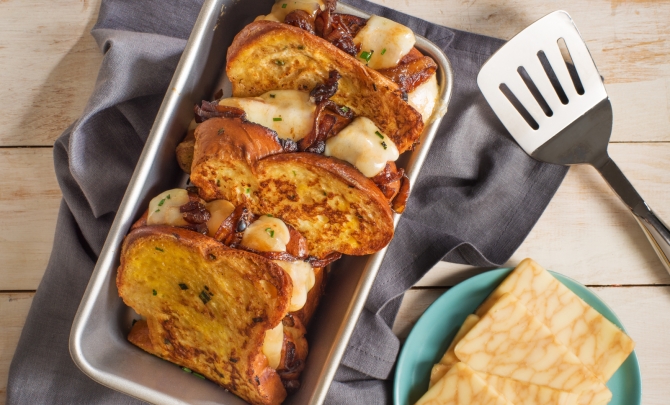 Recipe Description
Caramelized onions and Espresso Brava cheese stuffed between pieces of French Toast - a perfect breakfast, lunch or dinner!
Ingredients
1 tbsp olive oil
2 onions, sliced 
1 tbsp brown sugar
1/2 tsp each salt and pepper, divided 
4 tsp Dijon mustard
1 tbsp honey
8 slices thick-cut egg bread
8 oz Wood River Creamery Espresso Brava Cheese, sliced 
2 eggs
1/4 cup milk 
1 tbsp chopped fresh chives
2 tbsp butter, divided
Preparation
Heat oil in large skillet set over medium heat; cook onions, brown sugar, and half of the salt and pepper for 18 to 20 minutes or until deep brown and caramelized. Let cool. 
Mix mustard with honey; spread evenly over one side of each slice of bread. Layer half of the cheese, caramelized onions and remaining cheese over half of the bread slices; cap with remaining bread. 
In shallow dish, whisk together eggs, milk, chives, and remaining salt and pepper. Dip each sandwich in egg mixture.
Melt half of the butter in large skillet set over medium heat. Fry 2 sandwiches for about 3 minutes per side or until golden and cheese has melted. Repeat with remaining butter and sandwiches.