Smoked Gouda Buffalo Bacon Mac 'n' Cheese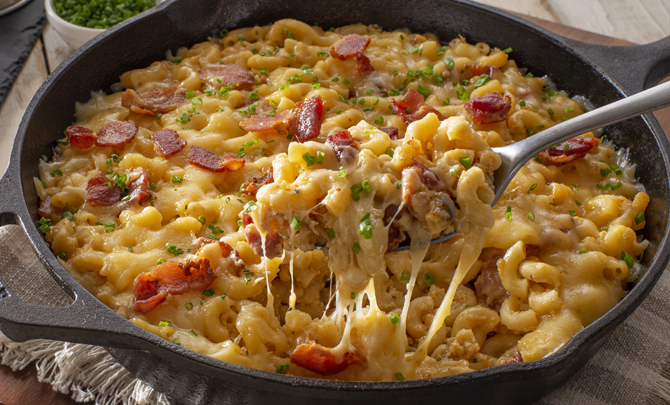 Recipe Description
Made for cheese lovers, this decadent take on a classic mac with Cady Creek Farms Smoked Gouda is pure delicious comfort food at its best.
Ingredients
1 lb dried elbow macaroni

8 slices bacon, chopped

1 onion, diced

5 cloves garlic, minced

1 small bunch fresh thyme sprigs

2 tbsp all-purpose flour

3 cups heavy or whipping (35%) cream

3 tbsp buffalo sauce

3 tsp salt

1 1/2 tsp black pepper

1/4 tsp ground nutmeg

1 cup shredded Cady Creek Farms Smoked Gouda, divided

2 tbsp finely chopped fresh chives
Preparation
Preheat oven to 425°F.
Cook pasta according to package directions. Drain.  
In large skillet set over medium heat, add bacon. Cook, stirring occasionally, for 3 to 5 minutes or until golden and crispy around edges. Transfer to paper towel–lined plate to drain. Transfer 2 tbsp bacon to small bowl and set aside.
Discard all but 2 tbsp bacon drippings from skillet. Add onion, garlic and thyme. Cook, stirring occasionally, for 3 to 5 minutes or until softened and fragrant. Sprinkle in flour. Cook, stirring, for 2 to 3 minutes or until coated.
Slowly whisk in cream and buffalo sauce and bring to a boil. Reduce heat to medium-low. Cook, stirring constantly, for 8 to 10 minutes or until thickened slightly. Stir in salt, pepper and nutmeg. Reduce heat to low. Stir in 3/4 cup cheese until melted. Discard thyme sprigs.
Add pasta and bacon from paper towel–lined plate to skillet; stir until combined. Transfer to greased 8-inch square baking dish. Sprinkle with remaining cheese.
Bake for 12 to 15 minutes or until bubbling. Increase oven to broil and broil for 3 to 5 minutes or until golden. Pat top of mac and cheese with paper towel to absorb extra oil. Repeat patting with paper towel as needed. Garnish with chives and reserved 2 tbsp bacon before serving.
TIP: Substitute cream with milk for a lighter dish if preferred.