Smoky Roasted Red Pepper & Gouda Soup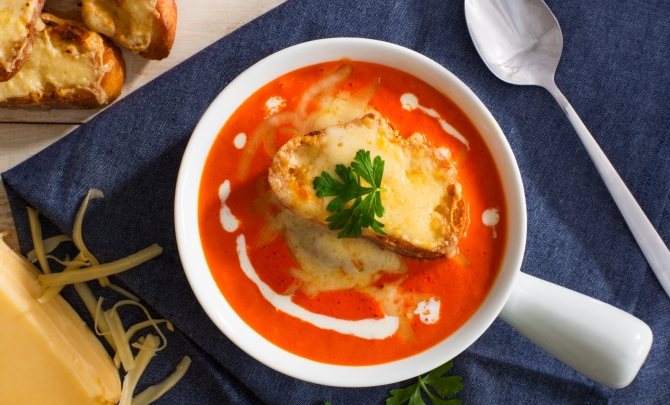 Recipe Description
Delicious blend of ingredients will warm you right up with this Smoky Roasted Red Pepper & Gouda Soup made with our Smoked Gouda cheese.
Ingredients
1/4 cup vegetable oil
4 onions, diced
8 shallots, diced
8 cloves garlic, minced  
4 stalks celery, diced
6 jars (12 oz each) roasted red peppers, drained, rinsed and chopped
2 tbsp smoked paprika
1 1/2 tsp each salt and pepper
16 cups sodium-reduced chicken broth
1 1/2 cups heavy whipping cream (35%)
1 1/2 cups shredded Burnett Dairy Smoked Gouda Cheese
Cheesy Baguette Toasts:

1 baguette, thinly sliced diagonally
1/4 cup olive oil
1/2 tsp salt 
1/2 cup shredded Burnett Dairy Smoked Gouda Cheese
Preparation
Soup: Heat oil in large saucepan set over medium-high heat; cook onions, shallots, garlic and celery for 8 to 10 minutes or until softened. Add red peppers, paprika, salt and pepper; cook for 5 minutes.
Add chicken broth; bring to boil. Reduce heat and simmer for 15 minutes. Purée using hand blender or in batches using a countertop blender until smooth. Let cool and refrigerate until ready for service.
Cheesy Baguette Toasts: Preheat oven to 375°F. Brush baguette slices with olive oil; sprinkle with salt. Bake, turning once, for about 10 minutes or until toasted. Top each with shredded cheese; bake for 3 to 5 minutes or until cheese is melted. 
For each serving, heat 1 1/2 cups (12 oz soup) with 2 tbsp cream and 2 tbsp shredded cheese until hot. To serve, top with cheesy toasts. 
Tip: Top each serving with chopped fresh chives or torn fresh basil.