Spiralized Mediterranean Salad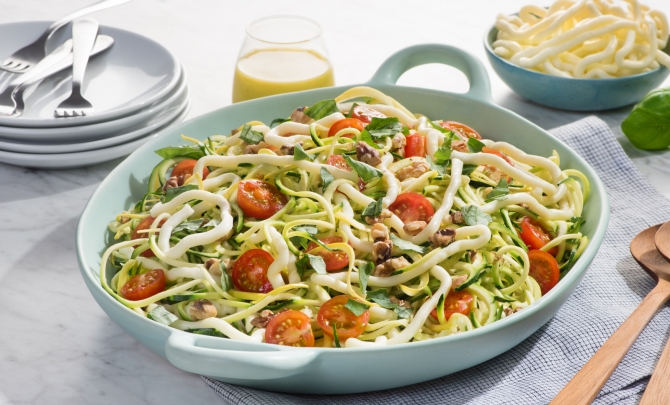 Recipe Description
A delicious recipe and a fun way to use String Whips - perfect for a light meal or as a side dish when entertaining.
Ingredients
2 green zucchini (about 2 inches in diameter)
2 yellow zucchini (about 2 inches in diameter)
1 cup halved cherry tomatoes 
1 pkg (8 oz) String Whips 
1/3 cup chopped toasted walnuts
1/4 cup torn fresh basil 
Herb Vinaigrette:

1/4 cup extra-virgin olive oil
2 tbsp lemon juice
1 small shallot, minced
1 clove garlic, minced
2 tsp Dijon mustard
1/4 tsp each salt and freshly ground pepper 
2 tbsp finely chopped fresh parsley
2 tbsp finely chopped fresh basil
Preparation
Herb Vinaigrette: Whisk together oil, lemon juice, shallot, garlic, mustard, salt and pepper. Stir in parsley and basil.
Using a spiralizer, turn zucchini into long strands, trimming with clean kitchen shears, if needed. Toss zucchini, cherry tomatoes and cheese with vinaigrette. Arrange on serving platter; garnish with walnuts and basil. 
Tip: A spiralizer is also known as a spiral slicer or vegetable turning slicer. They are available at most kitchenware stores or can be ordered online.