Steak, Caramelized Shallot and Cheese Sliders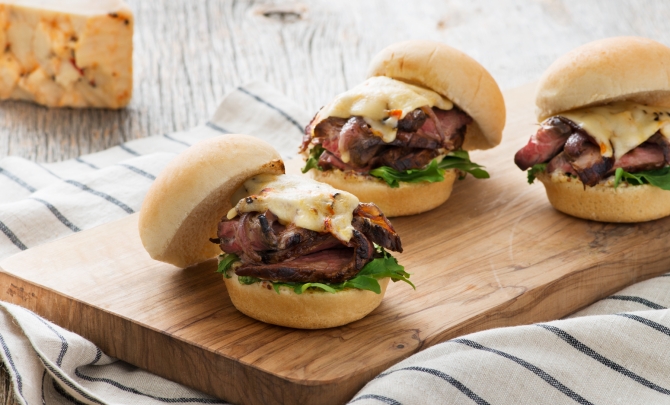 Recipe Description
Grilled to perfection and topped with creamy Wood River Creamery Roasted Red Pepper & Cracked Peppercorn, these sliders are the perfect appetizer or entree! Try paired with Merlot, Pale Ale or Pilsner.
Ingredients
1 flank steak (about 1 lb)
2 tbsp olive oil
2 tbsp balsamic vinegar
1 tbsp soy sauce
2 tsp Worcestershire sauce
1 clove garlic, minced  
1/4 tsp each salt and pepper 
6 shallots, peeled and sliced
1 tbsp mayonnaise 
1 tbsp grainy mustard  
1 cup arugula 
8 slider buns, toasted 
Preparation
Place flank steak in resealable bag. Stir together 1 tbsp of the olive oil, vinegar, soy sauce, Worcestershire sauce, garlic, salt and pepper; pour over steak. Seal and refrigerate for at least 1 hour or up to 24 hours. 
Preheat grill to medium-high heat; grease grate well. Grill steak, turning once, for about 10 minutes or until cooked to medium-rare. Transfer to cutting board and tent with foil. Let stand for 5 minutes before slicing thinly across the grain.
Meanwhile, in skillet, heat remaining olive oil over medium-high heat; sauté shallots for 6 or 7 minutes or until golden. Set aside. 
Mix mayonnaise with mustard; spread 1/2 tsp over each bun. Layer arugula, shallots and steak over bottom halves of buns and top each with slice of cheese; place on baking sheet. Broil for about 1 minute or just until cheese is melted. Cap sandwiches with remaining buns.