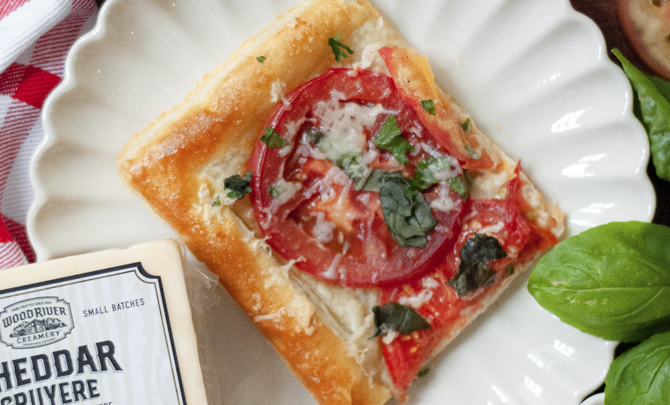 Recipe Description
This tomato puff pastry tart is a wonderful way to showcase those in-season tomatoes! A delicious option for an appetizer, light lunch, or as part of a brunch spread.
Ingredients
1 sheet frozen puff pastry
Flour (for rolling)
1 egg of any size (for egg-wash)
3 oz Wood River Creamery Original Cheddar Gruyere, grated*
2-3 medium tomatoes, cored and sliced
Salt and pepper to taste
5-6 leaves fresh basil, cut into small pieces
1 Tbsp mined fresh parsley
Preparation
Prepare and pre-bake puff pastry crust:
Thaw frozen puff pastry per the package instructions.
Preheat the oven to 400°F and line a baking sheet with parchment paper and set aside.
Unfold and place a thawed sheet of puff pastry onto a lightly floured, flat surface. Lightly roll the puff pastry dough into a rectangle that is about ⅛" thick.
Using a sharp knife, score a line about ½" in from all edges to create a border (do not cut all the way through).
Using a fork, prick the center of the puff pastry generously (do not do this on the border).
Whisk the egg in a small bowl. Gently "wash" the border with the egg using a pastry brush. Make sure to get the top and edges.
Bake for 15 minutes.
Prepare the toppings:
While the puff pastry is pre-baking, wash and slice the tomatoes. Grate the cheese. Chiffonade the basil and chop the parsley. Set all ingredients aside until the crust is ready.
Assemble the tart: 
After the puff pastry has pre-baked, remove it from the oven. Gently press the center portion down with a glass if it has puffed up, leaving the border puffed.
Generously sprinkle cheese over the center portion of the puff pastry.
Cover the cheese with a layer of tomato slices (it's ok to overlap them slightly).
Sprinkle the salt, pepper, basil, parsley, and a little more cheese on top of the tomatoes.
Bake:
Bake the assembled tart for another 12-15 minutes, until the puff pastry border is flakey and golden brown. At this point, the tomatoes should be lightly roasted and the cheese melted and bubbly.
SLICE, SERVE AND ENJOY!
Remove the tomato tart from the oven and cool for a few minutes prior to slicing. Best served immediately. Enjoy!
 
**Recipe creation and photo: @ourlovelanguageisfood