Truffle Cheese Baked Potato Wedges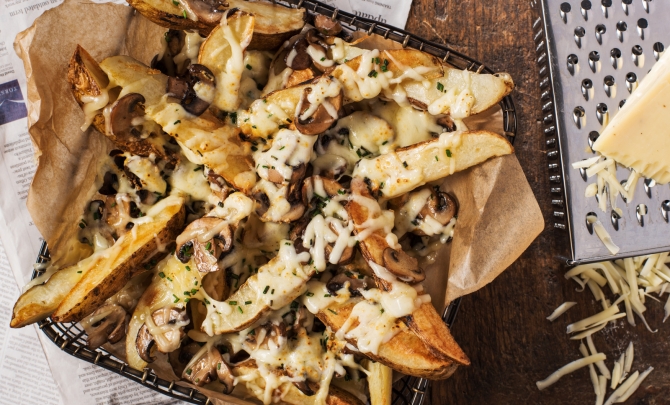 Recipe Description
Baked Truffle Fries are a delicious twist on a classic side dish or appetizer and super easy to make at home. 
Ingredients
4 Russet potatoes, scrubbed
5 tbsp olive oil, divided
3/4 tsp salt, divided
1/2 tsp pepper, divided
4 cups sliced mushrooms
1 clove garlic, minced
1 1/2 cups shredded Wood River Creamery Truffle Cheese, divided 
2 tbsp chopped fresh chives 
Preparation
Preheat oven to 425°F with baking sheet inside. Cut each potato into 8 wedges lengthwise. Toss together potatoes, 1/4 cup olive oil, 1/2 tsp salt and 1/4 tsp pepper; spread in single layer on heated baking sheet (wear oven mitts while handling hot baking sheet). 
Bake, turning once or twice, for 45 to 55 minutes or until potatoes are golden and fork-tender. Meanwhile, toss together mushrooms, garlic, remaining olive oil, salt and pepper. Transfer to baking sheet; bake alongside potatoes for 10 to 12 minutes or until moisture has evaporated and mushrooms are golden. 
Transfer half of the potatoes to ovenproof serving dish. Sprinkle with half of the cheese and spread half of the mushrooms over top; repeat layers. Bake for 3 to 5 minutes or until cheese has melted; sprinkle with chives. Serve immediately.