Ultimate Grilled Cheese Breakfast Sandwich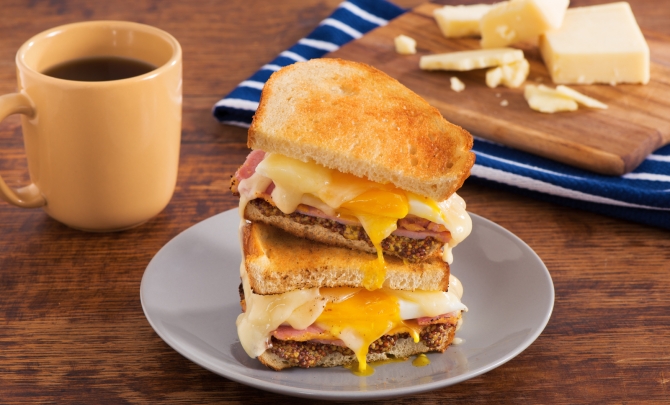 Recipe Description
The perfect way to start the day: Wood River Creamery Cheese, Eggs and Canadian Bacon on toasted Sourdough bread.
Ingredients
2 tbsp butter, at room temperature
8 slices sourdough bread
3 tbsp grainy mustard
8 slices peameal bacon, cooked 
8 oz Wood River Creamery Cheddar Gruyere Cheese, cut into 8 slices
4 eggs, pan-fried
Preparation
Butter one side of each slice of bread. Spread grainy mustard on unbuttered sides of half of the bread slices. Place slice of peameal bacon on top of mustard. Layer cheese slice, fried egg and another cheese slice over bacon; cap with remaining slices of bread, buttered sides out. 
Heat large nonstick skillet over medium-low heat; cook sandwiches for 2 to 3 minutes per side or until bread is golden and toasted and cheese is melted.
Tip: Cook sandwiches in a panini press if desired.
Tip: To cook peameal bacon, blot with paper towel. Heat 1 tbsp vegetable oil in large nonstick skillet set over medium heat; cook bacon, in batches, for 3 to 5 minutes per side or until browned. Transfer to plate. 
Tip: To pan-fry eggs, heat 2 tbsp olive oil in skillet set over medium heat. Crack eggs into skillet; cover and cook for 2 to 4 minutes or until whites are set and yolks are soft but not runny, or until desired doneness.