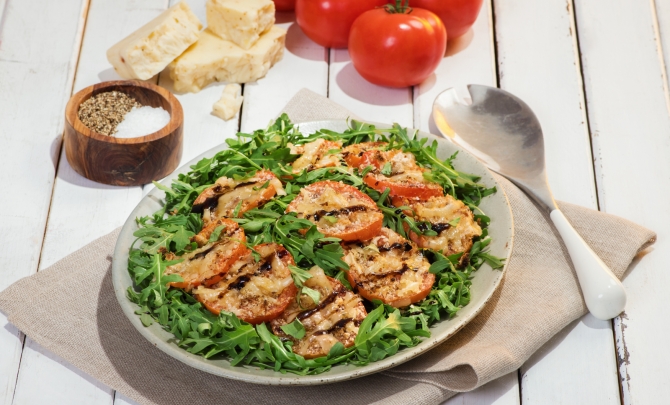 Recipe Description
Our twist on the tradition Caprese salad - still easy, fresh and delicious!
Ingredients
3 medium tomatoes, sliced
1/4 cup olive oil 
1/2 tsp salt
1/4 tsp freshly ground pepper 
1/4 cup fresh bread crumbs
1 cup shredded Wood River Creamery with Pesto 
4 cups arugula
1 tbsp balsamic glaze
4 fresh basil leaves, torn 
Preparation
Preheat broiler. Toss together tomatoes, oil, salt and pepper. On baking sheet, arrange 3 rows of tomato slices, overlapping tomatoes and spacing rows about 2 inches apart.
Toss bread crumbs with cheese; sprinkle evenly over tomatoes. Broil for 2 or 3 minutes or until cheese melts and bread crumbs are toasted. 
On serving platter, arrange bed of arugula; add rows of warm tomatoes over top. Drizzle with balsamic glaze and garnish with basil.
Tip: You can also serve this dish over pasta.