Flaky Croissants with Cheddar Gruyere
Prep Time

30 min & Overnight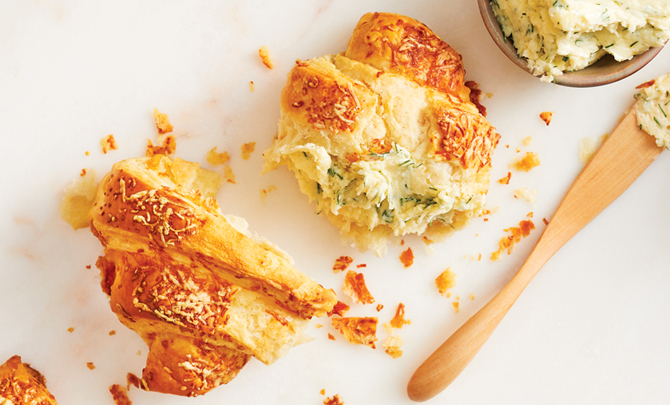 Recipe Description
These light, airy croissants taste so good! The prep time is well worth it!
Ingredients
3 1/4 teaspoons active dry yeast
1/4 cup sugar
1 1/2 cups warm milk (110°F to 115°F)
3 1/4 cups all-purpose flour, divided
1 1/2 teaspoons salt
1 1/2 cups (3 sticks) cold unsalted butter
6 ounces Wood River Creamery Original Cheddar Gruyere, finely shredded and divided (1 1/2 cups)
1 large egg, lightly beaten
Preparation
Dissolve yeast and sugar in warm milk in the bowl of a stand mixer. Let stand for 5-6 minutes or until foamy.
Add 3 cups flour and salt; beat on low speed until mixture is combined. Add remaining flour, 1 tablespoon at a time, until dough clears sides of bowl.
Knead dough in mixer or turn dough out onto a lightly floured surface; knead until smooth and elastic, about 6-8 minutes. Place dough in a greased bowl. Flip to grease top. Cover and let rise until doubled, about 1 hour.
Meanwhile, place sticks of butter side by side in the center of a sheet of parchment paper. Cover with another sheet of parchment. Pound butter with a rolling pin into an 8 x 5-inch rectangle. Refrigerate for at least 30 minutes.
Punch down dough. Knead a few times by hand. Roll out dough on a lightly floured surface into a 16 x 10-inch rectangle. Remove parchment, place butter widthwise in the center of dough. Fold dough into thirds over butter, starting with the short sides. Rotate dough 90 degrees. Repeat rolling out, folding and rotating dough three times. Wrap dough in plastic wrap. Refrigerate for at least 8 hours or overnight.
Line two 15 x 10-inch baking pans with parchment paper.
Roll out dough on a lightly floured surface into a 16 x 14-inch rectangle. Sprinkle with 1 cup cheddar gruyere, pressing down lightly. Cut into four 4 x 14-inch rectangles. Cut each rectangle diagonally.
Roll up from the wide end. Place croissants point side down 3 inches apart on prepared pans. Cover with plastic wrap. Let rise until nearly doubled, about 1 hour. Refrigerate for 1 hour.
Heat oven to 375°F.
Brush croissants with egg wash. Sprinkle with remaining cheddar gruyere. Bake, one pan at a time, for 30-35 minutes or until golden brown.
Serve with Savory Cheese and Herb Butter.
Recipe and photo © Dairy Farmers of Wisconsin